Biomimetic patterned surfaces for controllable friction in micro- and nanoscale devices
Micro and Nano Systems Letters
2013
1:6
Received: 21 September 2013
Accepted: 6 December 2013
Published: 18 December 2013
Abstract
Biomimetics is the study and simulation of biological systems for desired functional properties. It involves the transformation of underlying principles discovered in nature into man-made technologies. In this context, natural surfaces have significantly inspired and motivated new solutions for micro- and nano-scale devices (e.g., Micro/Nano-Electro-Mechanical Systems, MEMS/NEMS) towards controllable friction, during their operation. As a generic solution to reduce friction at small scale, various thin films/coatings have been employed in the last few decades. In recent years, inspiration from 'Lotus Effect' has initiated a new research direction for controllable friction with biomimetic patterned surfaces. By exploiting the intrinsic hydrophobicity and ability to reduce contact area, such micro- or nano-patterned surfaces have demonstrated great strength and potential for applications in MEMS/NEMS devices. This review highlights recent advancements on the design, development and performance of these biomimetic patterned surfaces. Also, we present some hybrid approaches to tackle current challenges in biomimetic tribological applications for MEMS/NEMS devices.
Keywords
BiomimeticsMEMS/NEMSSiliconPolymerFrictionWearLithographyPatternsContact areaLubrication
Introduction
MEMS/NEMS are miniaturized devices that are built at micro/nano-scale and are operated by various electrical, mechanical, and optical principles. These include a variety of sensors and actuators for industrial, consumer, defense, aerospace, and biomedical applications [
1
]. In particular, actuator-based devices have elements that undergo relative mechanical motion such as micro-gears, micro-motors and micro-engines (e.g. Figure
1
[
2
]). In these devices, the issues of smooth operation and long-term reliability have remained un-resolved owing to high friction that arises at micro/nano-scale [
3
]. Due in part to this reason actuator-based devices have not been fully commercialized yet.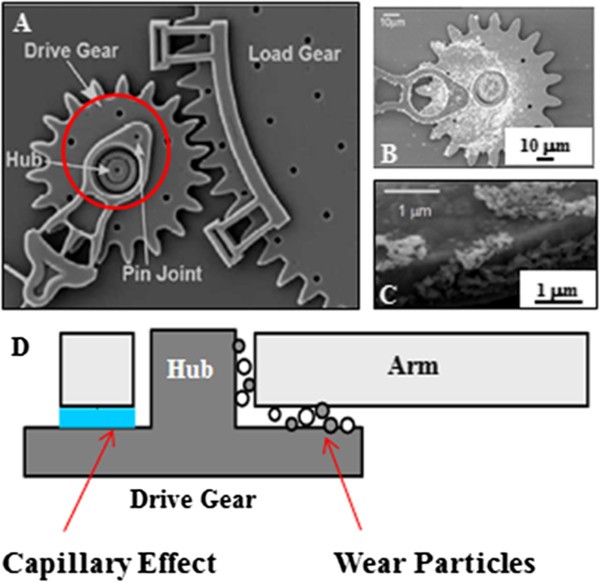 In general, lubrication is the most promising solution to reduce friction. However, lubrication becomes difficult when the dimensions of machine elements decrease from macro- to micro/nano-scale. For example, as the size of the machine elements shrinks from 1 mm to 1 μm, the surface area decreases by a factor of 106 whereas the volume decreases by a factor of 109, yielding the surface area-to-volume ratio of 103. Hence, surface forces such as adhesion and friction become significantly influential at such small scales. Further in miniaturized devices, the gap (clearance) between the elements is small (< 1 μm), which prohibits the use of conventional liquid and/or solid lubricants. For example, a drop of liquid lubricant will be in millimeter size and the size of solid lubricants such as graphite or MoS2 is of the same order as the size of the miniaturized devices. In addition, retention of lubricants at the contact points between the moving elements could be a hurdle for further implementation. Thus, minimizing surface forces in miniaturized devices has remained a real challenge.
At micro/nano-scale, friction is in a regime where the contribution from intrinsic/inherent adhesion outweighs that from asperity deformation [4]. Therefore, friction becomes naturally reduced while minimizing intrinsic adhesion, which arises due to the contribution of various attractive forces such as capillary, electrostatic, van der Waal, and chemical forces under different circumstances [4]. Amongst these forces, the capillary force that causes the formation of meniscus-bridge arising from the condensation of water from the environment is strongest [4]. From a material point of view, silicon is the widely used material for the fabrication of MEMS/NEMS, and in recent years SU-8 polymer has become an attractive material [5]. Silicon is hydrophilic in nature and generates a strong capillary force, resulting in high friction that opposes easy motion of components (Figure 1) [4, 6]. Silicon is also brittle and undergoes wear (Figure 1) [2, 6]. In contrast, SU-8 polymer is hydrophobic, but exhibits high friction/wear due to its soft nature [7].
In the past, various chemical modifications of surfaces such as boundary lubricant thin films/coatings have been adopted to reduce intrinsic adhesion and friction by increasing hydrophobicity and lubricity of MEMS/NEMS materials. Examples include self-assembled monolayers (SAMs) [8], diamond-like carbon (DLC) coatings [9], and also vapor phase lubricants [4]. In order to overcome some of the limitations of chemical modifications, bio-inspired topographical modification of surfaces has recently emerged as an effective route to minimize friction at micro/nano-scale. Biomimetic patterned surfaces lower intrinsic adhesion and friction via hydrophobicity (i.e. reduction in surface energy) and decrease in physical contact area between surfaces. The biomimetic surfaces, when applied with nano-scale boundary lubricants, exhibit even more remarkable capability to reduce surface forces, as well as to enhance durability, i.e. wear resistance.
Recognizing this important trend in tribological applications, this review gives an overview on the design, development and performance of biomimetic patterned surfaces that can significantly control friction at micro/nano-scale for applications in MEMS/NEMS. As an introduction, Table
1
presents the data of water contact angle (CA) and friction properties of various biomimetic patterned surfaces reported in the literature.
Table 1
Water contact angle (CA) values, and friction properties of various biomimetic patterned surfaces at nano- and micro-scales
| Surface | CA (deg) | Nano-scale friction force (nN) | Micro-scale friction coefficient (μ) | Ref |
| --- | --- | --- | --- | --- |
| Silicon flat surface | 22 | 20-28 | 0.46 | [15] |
| SU-8 thin film | 83 | - | 0.6 | [30] |
| PMMA nano-patterns | 99 | 0.84-1.97 | 0.33 | [13] |
| DLC nano-dot surfaces | 95 | 0.98-1.63 | 0.13 | [23] |
| PMMA micro-patterns (Replicated Surfaces) | 91-106 | - | 0.11-0.13 | |
| Silicon micro-pillars | 59 | - | 0.16 | [29] |
| Silicon micro-pillars coated with DLC | 145 | - | 0.12 | [29] |
| Silicon micro-pillars coated with ZDOL | 105 | - | 0.08 | [29] |
| SU-8 micro-patterns | 105 | - | 0.3 | [30] |
| SU-8 micro-patterns coated with PFPE | 108 | - | 0.19 | [30] |
| SU-8 micro-patterns treated with Ar and coated with PFPE | 83 | - | 0.21 | [30] |
| SU-8 micro-patterns treated with O2 and coated with PFPE | 91 | - | 0.22 | [30] |
Discussion
As described earlier, the area-to-volume ratio is extremely large at micro/nano-scale, leading us to conclude that friction depends on surface properties rather than bulk material properties. On a comparative note, the difference between thin films/coatings and biomimetic patterned surfaces lies in their approach to reduce/control friction. While the former is based on chemical modification of surfaces, the latter relies on topographical/physical modification.
Contact area in the case of thin films/coatings can be estimated by using the Johnson-Kendall-Roberts (JKR) contact mechanics model [32]: Ar = π[R/K(Fn + 6πγgR + [12πγR Fn + (6πγR)2]1/2)]2/3. Here, R is the size of the counterface ball, K the effective elastic modulus (combination of elastic modulus of coating and counterface), Fn the applied normal load and γ the interfacial energy. For thin films/coatings, SAMs have low elastic modulus [33] and so the reduction in contact area is not significant. To reduce friction, a complex chemistry has to work such that the suitable selections of end groups, chain length and mixture of monolayers have to be taken into account [8]. Further, achieving uniform coating of SAMs on large surface areas without defects or polymerization poses a great challenge. On the other hand, in DLC coatings, elastic modulus is relatively high so that reduction in contact area plays a supportive role in reducing friction [15]. It is noted that lubrication in DLC coatings mainly occurs by the formation of 'transfer layer' [34]. During the formation of transfer layer, not all the material that gets removed from DLC coating is transferred to the counter surface; rather most of it gets released in the form of loose wear particles. Such free wear particles could play an adverse role by interfering physically and/or chemically with the functioning components (DLC has high hardness, electrical insulation, thermal conduction and chemical inertness [35]). Regarding vapor phase lubrication method [4], it is necessary to ensure the presence of lubricant vapor at the interfaces for the entire duration time of device operation. Given this situation, it requires a provision to store lubricant vapor within the device and continuously re-supply it to the interfaces. This remains a challenging issue yet to be addressed.
Given the above-mentioned limitations/drawbacks of thin films/coatings and vapor phase lubrication, biomimetic patterned surfaces have some noteworthy salient features: (i) they provide a simple and easy route to reduce friction via the direct reduction in contact area. In addition, their performance can be further enhanced by applying boundary lubricant thin films/coatings. (ii) Lithography techniques used to make patterns are the same as those used to fabricate MEMS/NEMS, indicating that patterning the surfaces of device components can be easily conducted during their fabrication. This makes the process even more convenient and cost- and time-effective compared to other methods. (iii) The main aim to reduce friction in small-scale devices is not to eliminate friction completely, since with zero friction sliding components cannot engage each other. Instead, friction should be controlled in such a way that it should be low enough to support smooth motion, but sufficiently high to engage relative mechanical motion between components, e.g. micro-gears. Taken together, making patterns on component surfaces with varying sizes and shapes along with the application of a variety of boundary lubricants provides greater flexibility and strength to control friction at micro/nano-scale, for desired smooth operations of MEMS/NEMS.
Considering the theoretical modelling of biomimetic surfaces, it is focused towards understanding the effect of hierarchical roughness on adhesion force [36–40], especially 'roughness induced superhydrophobicity'. The studies aim to support the design of low-adhesion, low-friction and non-wetting surfaces. Wetting involves interactions at different scale levels/sizes, namely macro-scale (water drop), micro-scale (surface texture) and nano-scale (molecules). Hence, understanding the role of hierarchical surface roughness, the transition between various wetting regimes and optimization of roughness etc., becomes important. Modelling has given some insights on solid–liquid interactions. As an example, studies on wetting of micro-patterned surfaces have shown that: (i) the wetting behavior depends on the spacing factor (a micro-scale non-dimensional parameter), and (ii) the contact angle hysteresis and Cassie-Wenzel transition are governed by micro- and nano-scale effects. These insights on the fundamental mechanisms of wetting are very useful in designing non-adhesive surfaces. It is to be noted that when compared to solid–liquid adhesion, dry solid-solid friction is a complex phenomenon that at times is influenced by wear, and so is rather difficult to model.
Conclusions
We have presented that the underlying principles in natural surfaces provide valuable insights towards solving intricate technological issues. Biomimetic engineering of surfaces is an exciting and practical way to control friction at small-scales. Examples presented in this review clearly indicate that by the design and development of biomimetic patterned surfaces, in combination with boundary lubrication, better solutions can be pursued to control friction at small-scales, for the efficient operation and application of miniaturized devices.
Authors' information
Arvind Singh received his doctoral degree from the Indian Institute of Science (IISc), India in 2003. In his doctoral research work, he consolidated a new approach to understand metallic wear based on dynamically evolved microstructure. As a Materials Scientist at the John F. Welch Technology Center (GE India), he investigated tribological systems in aircraft engines and on super-abrasives. During his tenure as a Visiting Scientist at the Korea Institute of Science and Technology (KIST), South Korea, he proposed micro/nano-patterns as biomimetic surfaces for tribological application in MEMS/NEMS. He continued his research on biomimetics at the National University of Singapore (NUS), where he formulated novel surface modification methods to functionalize SU-8 polymer for tribological applications in MEMS/Bio-MEMS and for indwelling biomedical devices. At Vestas Global R&D, he investigated tribology of wind energy systems. Currently, at the Energy Research Institute (ERIAN), Singapore, he is leading tribology and surface engineering R&D projects related to wind & marine renewables.
Kahp-Yang Suh received his doctoral degree from the Seoul National University (SNU), Korea in 2002. He specialized in micro/nano-patterning of polymeric surfaces using capillary force lithography/nanoimprint lithography, and made significant contributions to the field. He was a postdoctoral researcher at the Massachusetts Institute of Technology (MIT), USA. In 2004 he joined as an Assistant Professor at SNU. He was an outstanding faculty and researcher in the field of fabrication of micro/nano-polymeric patterns, whose applications ranged from tribology to lab-on-chip devices. He won a number of awards, including TR100 Young Innovator Award by MIT Technology Review, Best Graduate Student Award by the Brain Korea (BK) 21 Program of the Korean Government, Korea Presidential Young Scientist Award and Young Professor Award by College of Engineering of SNU.
Arvind Singh and Kahp-Yang Suh, shared the 'First Surface Engineering Best Paper Award', given by the Society of Tribologists & Lubrication Engineers (STLE), USA (2007), for their pioneering work on biomimetic approach as a robust solution for tribological issues in micro/nano-scale devices.
Declarations
Acknowledgment
Arvind Singh dedicates this review article to Kahp-Yang Suh, for his memorable contribution to the field.
Authors' Affiliations
(1)
Energy Research Institute (ERIAN), Clean Tech One, Nanyang Technological University, Singapore, Singapore
(2)
Department of Mechanical and Aerospace Engineering, Seoul National University, Seoul, South Korea
Copyright
© Singh and Suh; licensee Springer. 2013
This article is published under license to BioMed Central Ltd. This is an Open Access article distributed under the terms of the Creative Commons Attribution License (http://creativecommons.org/licenses/by/2.0), which permits unrestricted use, distribution, and reproduction in any medium, provided the original work is properly cited.